I have no evidence to support the reliability and validity of this test, but I have been doing this test for several years now on my patients with various hip & knee issues.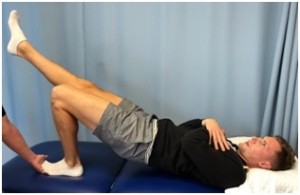 Step 1: Cross arms across the chest to avoid cheating and pushing down with the arms.
Step 2: Flex the knees as much as possible in order to take the heel close to the glutes to minimize potential hamstring cramping during the test.
Step 3: Go into a bridge position with both feet on the bed, then lift one foot off and extend the knee, keeping the thighs parallel with each other.
Step 4: Hold the single leg bridge position with the pelvis level as long as possible. Avoid pushing on the forefoot as it may cause hamstring cramping; so focus on pushing down with the heel.
Step 5: Use a stopwatch to time the maximum tolerance of holding the position. Look for an asymmetry of greater than 10 seconds.
Runners: 60 seconds required
Walkers: 30 seconds required
Less than 20 seconds means sub-optimal hip extension endurance indicating lower extremity strength and endurance training may be required.