This study included 112 patients (15-27 yrs of age) with myogenic Temporomandibular Disorder (TMD) who were randomly assigned to…
Group 1: Consulted a physiotherapist (2x/week for 6 weeks) and provided with progressive daily TMJ specific exercises
Group 2: Consulted a dentist and provided with a custom made occlusive splint which was revised as required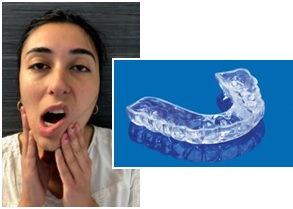 Result: Over a treatment period of 6 weeks, those in group 1 showed significantly greater reduction in pain and TMJ opening mobility.
Clinical relevance: Conservative physiotherapy may be a better first line management option than occlusive splinting for patients with myogenic temporomandibular dysfunction.
The sad part is that a survey study showed that the majority of dentists lack awareness about the benefits of PT for TMD (Gadotti et al 2018).
TMJ online Course
You may view the complimentary preview lesson for the APTEI TMJ on-line course on Embodia. I know I am obviously biased, but I believe it is an excellent course. Try the 2 free preview lessons for yourself and see what you think.
A significant portion of patients with TMJ issues may develop central sensitization, where treating the joint or the muscles is futile. These patients unfortunately eventually end up at pain clinics receiving opioids and/or multiple injections.
I wish they would be shown my light bulb story video to try a different approach.
References: 1. Shousha TM et al The effect of a short term conservative physiotherapy versus occlusive splinting on pain and range of motion in cases of myogenic temporomandibular joint dysfunction: a randomized controlled trial. J Phys Ther Sci. 2018 Sep;30(9):1156-1160.
Gadotti IC et al Dentists' Awareness of Physical Therapy in the Treatment of Temporomandibular Disorders: A Preliminary Study. Pain Res Manag. 2018 Feb 28;2018:1563716.