This RCT compared the effect of 6-week retro (backward) versus forward walking in those with mild to moderate knee OA (mean age, 56 yrs).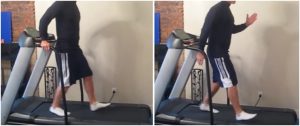 Holding on                               Not holding on
The participants in both groups completed 10 minutes of supervised treadmill walking in addition to their usual PT care, 3 days/week for 6 weeks.
Results: After 6 weeks, those in the retro walking group had slightly greater improvements in their knee pain, functional scores, quadriceps strength and the timed up and go test.
Clinical relevance: Walking is good for those with symptomatic knee OA, weather it is on the treadmill or outside. The addition of uphill or backwards walking may be beneficial for some, perhaps simply because they are novel exercises.
The challenge:
MD: Your x-ray results came in and you have osteoarthritis in your knees.
Patient: What does that mean Doc?
MD: It means you have wear & tear in your joints and your cartilage is thinning. You may eventually need a knee replacement. You're gonna have to take it easy from now on.
Patient: Can I still exercise or go for my walks?
MD: Again, you're gonna have to take it easy as it's only going to get worse in time.
Result: Fear –> Increased pain perception –> Avoidance of activity –> Harder task for PTs
Reference: Alghadir AH et al . Effect of 6-week retro or forward walking program on pain, functional disability, quadriceps muscle strength, and performance in individuals with knee osteoarthritis: a randomized controlled trial (retro-walking trial). BMC Musculoskelet Disord. 2019 Apr 9;20(1):159.