Is the degree of slouched sitting associated with low back pain (LBP) among adolescents or is it more associated with other physical, lifestyle, or psychosocial factors?
This study involved over 1500 adolescents and investigated the relationship between slouched sitting and LBP.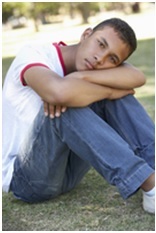 Multivariate analysis revealed that the following were the most significant factors associated with the degree of slump in sitting.
Being male
Lower perceived self-efficacy
Lower back muscle endurance
Greater television use
Higher BMI
Poorer Child Behaviour Checklist scores were the strongest correlate of report of back pain
Basic conclusion: Slump sitting and LBP are complex and multidimensional in nature and one cannot simply conclude one causes the other.
Slouching is not bad, but the lack of interruption of it is!
Reference: O'Sullivan PB, Smith AJ, Beales DJ, Straker LM. Association of biopsychosocial factors with degree of slump in sitting posture and self-report of back pain in adolescents: a cross-sectional study. Phys Ther. 2011 Apr;91(4):470-83.