As the paradigm of our profession gradually shifts from a purely biomedical towards a biopsychosocial model of care, this paper analyzed multiple studies on the relevance of Therapeutic Alliance (TA) within physiotherapy practice.
A recurring theme is that TA is achieved by focusing on concepts such as 'seeing the person', 'sharing the journey', and 'communication'.
 "Patients want to feel like that they have been heard"
One may wonder why focus on TA has not always been in the PT profession. The history of the PT profession dates back to when we provided "remedial gymnastics and massage". The health care providers that provided this service were primarily female and the patients were primarily male soldiers following WWI.
These health care providers took pride in their profession and their ability to prescribe exercises and move painful body parts and get people back to their desired functional activities. They did not wish to be mistaken for a 'masseuse'. The pleasure providing masseuse profession was also dominated by women where the aim was to make their customers "feel good".
However, the proud women of the newly born PT/OT profession wished to completely differentiate themselves from the 'masseuse' profession. Their training and education focused on the biomedical model in order to ONLY treat the physical aspect of the patient. They emphasized that rehab focuses on anatomy, joints and movements; this made rehab professionals distinctively different from masseuse who focused on providing pleasure.
The women in the early PT profession took pride in providing rehab that often resulted in significant pain; everything from having an amputee walk with a new prosthesis to regaining shoulder mobility after a surgery.
Perhaps in the early days of the PT profession, emotional closeness to a patient was to be avoided, as treatments were to strictly focus on the physical well-being of the patient.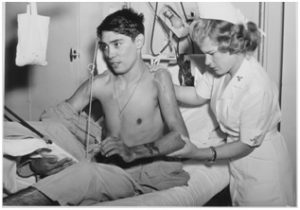 With the growing body of research and our profession no longer being insecure about being mixed up with those who work at massage parlours, it is time that we moved forward as a profession. We no longer need to emotionally distance ourselves from our patients in order to prove that we JUST treat them physically.
By knowing and understanding our history, we can hopefully move forward as the paradigm of our profession shifts from a primarily biomedical towards a biopsychosocial model of care.
 "Continued efforts are needed in physiotherapy education and training in both enhancing theoretical awareness of the role of the TA within physiotherapy practice…"- Søndenå 2020
We no longer require to have the persona of being "tough"; we can be both, physical and emotional therapists. Some believe that this is a grey area, as PTs are not psychologists. In my humble opinion, there is nothing grey about it. Being empathetic, compassionate, and taking the time to actively listen and not judge, are all well within the PT scope of practice.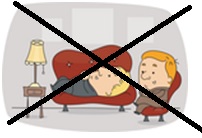 Watch my 3-min. video on "positive words".
Reference: Søndenå P et al Conceptualisation of the therapeutic alliance in physiotherapy: is it adequate? Musculoskelet Sci Pract. 2020 Apr;46:102131.